Idemitsu Petroleum Norge AS (IPN) was established in 1989 and started our business on the Norwegian Continental Shelf (NCS) through the acquisition of interests in two licenses in the northern North Sea where the Snorre oil field was in development.
This was closely followed by the development of Tordis and Vigdis oil fields in the area covered by the same licenses.
Snorre commenced production in 1992 and was initially forecast to produce until around 2015. However, production from the field is now projected to continue until 2040 thanks to collaboration between the license operator and joint venture partners.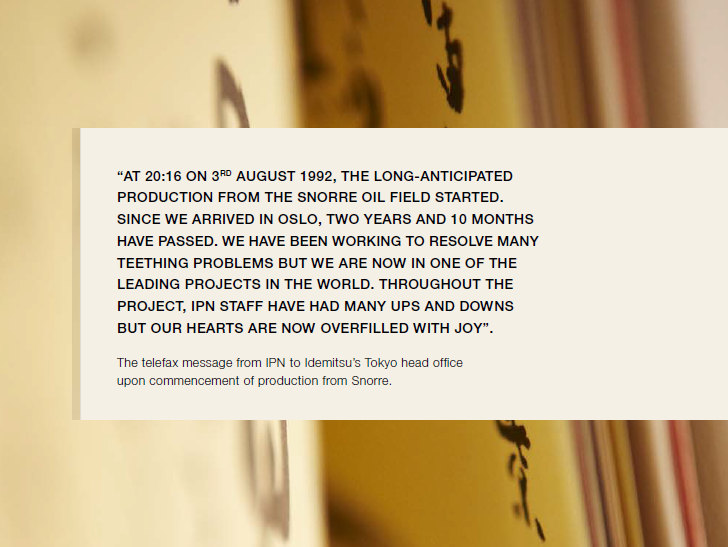 Telefax to HQ when Snorre commenced production in 1992. Photo: IIN/Jarle Nyttingnes
In 2002, IPN acquired an interest in another key license containing the Fram oil field through the SDFI sale. Fram commenced production in 2003 and exploration activities in the Fram license have added reserves and provided stable production from the area.
In 2005, IPN was awarded an interest in a license north-east of the Snorre oil field where the Knarr oil field was discovered in 2008. Knarr commenced production in 2015, and became the first project in which IPN participated in from license award, through exploration and development to production.
In 2022, INPEX acquired the majority share of parent company of IPN and, as of 31st January 2022, IPN changed its company name to INPEX Idemitsu Norge AS (IIN).